Breastfeeding is a Beautiful Thing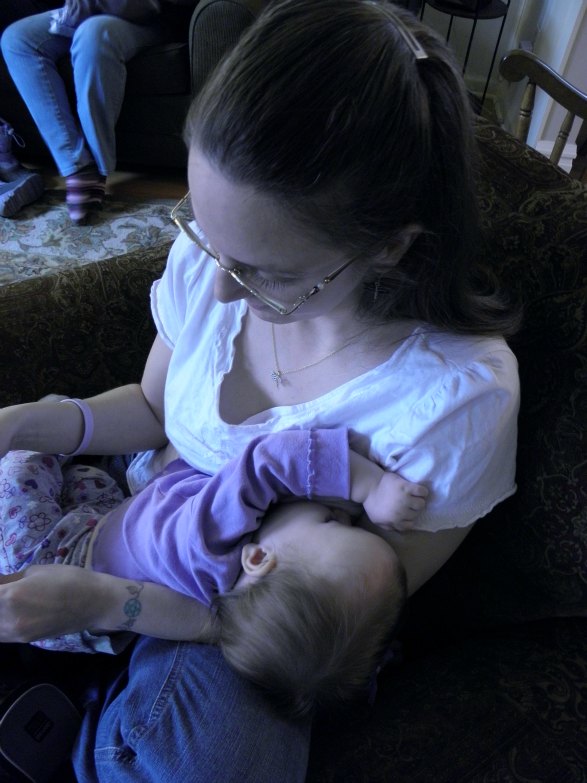 Benefits of Breastfeeding
There are many benefits of breastfeeding for both babies and mothers. The awareness of those benefits continues to increase and most new mothers are aware of at least some of those benefits.
"Breastmilk is the ultimate health food. The benefits of breastmilk in preventing infections and reducing the severity of infections when they occur are extraordinary. It is rare in medicine (or any other discipline) to find such absolutely unanimous agreement." Harley A. Rotbart M.D. in Germ Proof Your Kids (ASM Press, 2008)



Breastfeeding provides baby with:
the perfect composition of nutrients at each stage of development, the right nutrition tailored to your baby, breast milk changes as baby grows, breast milk even changes throughout the feeding, giving your baby just the right combination of nutrients for his/her growing needs.
increased immunity and protection from infection, reduced lifetime risk of many diseases.
reduced risk of childhood obesity.

assists the proliferation of proper intestinal flora - helping to create the right environment for proper digestion when solid foods are introduced. 
more skin to skin contact.
helps baby regulate body temperature.
"The newborn has only three demands. They are warmth in the arms of it's mother, food from her breasts and security in the knowledge of her presence. Breastfeeding satisfies all three."

Dr. Grantley Dick-Read, the author of a best selling book on childbirth, Childbirth Without Fear published in 1942.

Benefits for the mother include:
reduced risk of postpartum hemorrhage when breastfeeding immediately following birth.

stimulation of mothering hormones and increased feelings of relaxation.
simplified baby care.
delayed return of fertility.


There are benefits for the whole family. Breastfeeding: 
promotes bonding for mother and baby.
promotes bonding and appreciation between all family members.

provides a financial advantage, saving money for the family including reduced health care costs.
helps clarify older sibling's new role in the family.

contributes to baby spacing.

Breastfeeding is a learned natural process.
Just because it's natural doesn't mean it happens without effort or learning. There are new skills involved in the process of nursing and establishing a milk supply and a breastfeeding relationship with your baby. Every mother baby combination is unique and you both have a bit of learning to do. Getting to know each other can take a little time.

While the awareness of the benefits has increased, what many new mothers aren't aware of are the basics of establishing a solid breastfeeding relationship from the beginning. The why for's may be understood but the how to's have yet to be explored by a new mom.

One of the delights and in some cases challenges of your baby moon postpartum period is establishing breastfeeding.

Having your baby skin to skin within the first hour after birth will help stimulate both your baby's and your instincts into action. Providing the opportunity for your baby to nurse during that first hour or as soon after birth as possible gives you both an advantage in allowing for the natural process to begin and for both of you to learn.
A basic fundamental principle of getting breastfeeding off to a good start is the concept of 'early and often'. Breastfeed your baby as soon after birth as possible and continue for those early weeks to breastfeed often. On demand breastfeeding is the best way to establish your milk supply.
Support from Your Partner
A crucial component in facilitating this process is support. Having a supportive partner is extremely helpful. Knowing that your partner regards your new role and your ability to breastfeed as vitally important can help you keep the value of breastfeeding front and center during this time of learning new skills and establishing your nursing relationship.

Someone who can help with the little practical things, like bringing you a glass of water, serving you a meal or rearranging a pillow for you can make a big difference. 

Breastfeeding supportive family members and friends can cheer you on and glow as they witness the miracle of the mother baby dance as it unfolds before their eyes.
Support from Family Members 
Support beyond immediate family members can also be extremely helpful. A grandmother who breastfed her babies may be especially helpful and offer assistance and encouragement to a new mom.
She may also be helpful with practical tasks. Any help with the daily household responsibilities can create an atmosphere of nurturing support for a new mother. Think sisters, aunts, friends and others.
Doula Support
Postpartum doulas provide this kind of assistance as trained professionals. They are able to provide basic evidence based information as well as hands on practical help within the family.

Designating a baby moon for yourself increases your ability to reach your breastfeeding goals with this baby. Allowing yourself time to spend relaxing with your new baby and providing lots of skin to skin contact helps initiate the instinctive responses in both your baby and yourself.  A designated period of time for you, your baby and your other family members allows you an opportunity to rest, recover and relish the early days of your baby's life.  

Helpful resources:
There are many available resources for breastfeeding information. Online, offline, published written resources and support groups.

| | |
| --- | --- |
| Support groups resources:  | |
What is an International Board Certified Lactation Consultant (IBCLC)?
To find an International Board Certified Lactation Consultant (IBCLC) see the International Lactation Consultant Association (ILCA) directory. Find a Lactation Consultant.


For our page highlighting the Office of Women's Health Breastfeeding Fact Sheet.
See our recommended reading page for a more extensive list of suggested reading.

Excellent titles, include:
The Womanly Art of Breastfeeding and Breastfeeding Made Simple.

A Baby Moon Company participates in referral programs and may receive a small commission when you follow and make a purchase from affiliate ads that we display on this site.

A Baby Moon Company™
You deserve the best company during your baby moon!